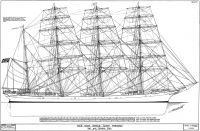 Four-Mast Barque "Queen Margaret" - Sail and Rigging Plan
By Harold A. Underhill, A.M.I.E.S.
Price:

£10.00
Item attributes
ISBN:

n/a
Item details
Plan: 588
Size of Sheet: 42"x26"
2,144 tons. Built 1893 by M'Millan of Dumbarton. In his book, The Last of the Windjammers Vol 2, Basil Lubbock refers to "The Lovely Queen Margaret" and says, "This four-mast barque was considered by experts to be one of the fastest and most beautiful of the carriers of the nineties".
The drawings listed below are to a large scale, being full size for a model 40 ½" overall.
Plans in this series: 586 587 588
Related books: Last of the Windjammers Volume 1 Last of the Windjammers Volume 2 The Basil Lubbock Collection Deep-Water Sail
Construction help: Plank-On-Frame Models Vol I Plank-On-Frame Models Vol II
Guide to Masts and Spars: Details of Masts and Spars, plan 29
Catalogues: Sailing Ships Powered Craft